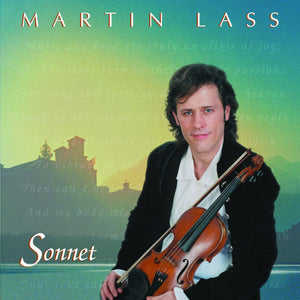 This album contains Martin Lass's hauntingly beautiful original music...
...the Music of the Spheres.


This music will touch you, inspire you, and heal you...
...romantic violin accompanied by the sounds
of piano, guitar, harp, flute and other instruments
—from soothing lullabies to soaring love songs.


Give yourself this album now for your peace and well-being!


NOTE: This is digital download of the entire Sonnet album as MP3s
For digital downloads of individual tracks, visit Martin Lass Sonnet album on iTunes
For physical CDs to Australia, please visit Martin Lass Sonnet CD to Australia
Listen to samples of this album
Tracks
Sonnet
A Winter Tale
The Sacred Marriage
Summersleep
Ode to the Earth
A Lady's Errand of Love
The Sea of Tranquillity
Inner Journey
Nightsong
A Place in the Heart
Amidst the Spinning Stars