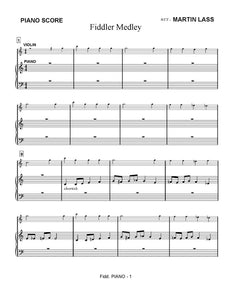 (To see the full 2022 catalog of sheet music, click here.)
Sheet music for selections from the Broadway show, Fiddler on the Roof, from Martin's gypsy album, The Gypsy Fiddler. Includes Tradition, Matchmaker, Rich Man, Sabbath Prayer, To Life, Sunrise Sunset, and Wedding Dance. For violin and piano.
Includes piano/score part and violin solo part.
Note: this is a digital download PDF file for you to download and print.
If you want professionally printed hard-copy sheet music (not of this song, though), Martin offers a booklet of five songs from the Sonnet album, for violin and piano. Check it out here.