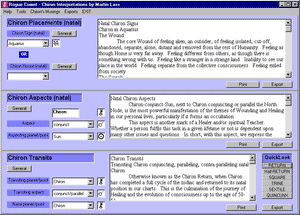 Note: This product is a digital download.
Who is Chiron and what does Chiron mean in the horoscope?

Overview
This software app, Rogue Comet, allows easy access to Martin's detailed interpretations of Chiron (the Planet of Healing), through the signs, in the houses, in aspect, and in transits.  The interpretations are taken directly from Martin's book Chiron - Healing Body and Soul (Llewellyn Publications, 2005).

Note: To use this software app, you will need to know your Chiron details based on your birth chart. This software app does NOT calculate this. However, you can get this for free at the following link. You can also calculate transits here.
Free astrology chart calculation
After entering your birth details, just make sure to scroll down and highlight "Chiron" in the "Additional Objects" menu before displaying any chart.
And after displaying, for ease of reading, click on "Additional Tables (PDF)".
Lastly, if you're a newbie to astrology, you'll need to Google what each of the astrology symbols means. It's not rocket science, though... :-)
Features of Rogue Comet
Easy-to-use interface (see linked screen shot below)
Detailed interpretations, not just summary sentences.
An introduction to Chiron
(excerpt from Martin's book Chiron - Healing Body and Soul)
Built-in ephemeris of Chiron positions from 1900-2020.
Daily inspirational messages from Chiron.
QuickLook feature for major Chiron transits, i.e. Return, half-Return, Square, etc.
All interpretations able to be individually printed.
Copyright protected
Graphic and text Help
Easy installation - instructions provided
Platforms - Windows PCs only (sorry, no Mac version or mobile app).
From Windows 95 to Windows 10 (later versions of Windows may require compatibility mode settings).